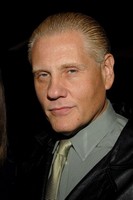 Nom : Forsythe
Prénom : William
Date et lieu de naissance : 7 juin 1955 à Bedford-Stuyvesant, New York (Etats-Unis)
Sa vie :
William Forsythe a grandi dans les quartiers Flatbush et Old Mill Basin, à Brooklyn, New York. Il a fréquenté la Holy Cross School, à Flatbush, puis Nazareth High School avant d'étudier à la South Shore High School, dont il sort diplômé en 1973.
Il obtient son premier rôle, celui de Julius Ceasar, à l'âge de 10 ans dans une pièce de théâtre produite à l'école.
Il se lance professionnellement dans le théâtre à 16 ans. A 17 ans, il compte déjà une quarantaine d'apparition dans des pièces de théâtre. Il s'envole ensuite pour Los Angeles pour poursuivre une carrière d'acteur. Il étudie notamment à The Beverly Hills Playhouse.
Il débute à la télévision avec des petits rôles dans des séries TV comme Chips (1977), Capitaine Furillo (1981), ou encore Hooker en 1982. Puis il parvient à se faire engager dans des films de plus grande qualité comme Il était une fois en Amérique en 1984.
Très vite, il multiplie les rôles de méchants vraiment détestables, des rôles qui ont une grande importance dans les films dans lesquels il joue, ou bien des rôles d'officiers de police avec sa voix autoritaire.
Dans les années 2000, il apparaît dans plusieurs séries TV et continue d'interpréter des rôles au cinéma dont Halloween en 2007.
Sa famille :
William Forsythe est père de trois filles : Rebecca (née en 1990), Angelica (née en 1992) et Chloe (née en 1993).

Petits + :
William Forsythe se fait également appelé Bill.
Il mesure 1.83m.
Distinctions :
William Forsythe a été plusieurs fois récompensé pour ses prestations, notamment en 1992 avec le film The Waterdance, et The Devil's Rejects en 2006.

---------------------------------------------------------------------------------------------------------------------------------------------------
Rôle de Steve Rigsby