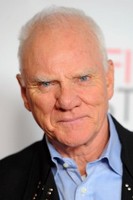 Nom : McDowell (aussi écrit MacDowell)
Prénom : Malcolm
Nom de naissance : Malcolm John Taylor
Date et lieu de naissance : 13 juin 1943, à Leeds, Yorkshire (Royaume-Uni)
Sa vie :
Malcolm McDowell est le deuxième de trois enfants, et aussi le seul garçon. Ses parents étaient de classe ouvrière. Son père tenait un bar et est devenu alcoolique. Sa mère était hôtelière.
Enfant, Malcolm était turbulent, rebelle, se braquant contre l'éducation de ses parents. A 11 ans, son père décide de l'envoyer à Tonbridge School, une école privée pour garçons très réputée, pour qu'il ait toutes les chances d'avoir une bonne vie. Puis il est scolarisé à Cannock House School, à Eltham, dans le Kent, où il apprend non sans mal la discipline. C'est à ce moment-là qu'il décide de devenir acteur. Il intègre alors par la suite The London Academy of Music and Art pour étudier le théâtre, tout en travaillant dans le pub de ses parents. Après la faillite du bar de ses parents (son père buvait trop), il a fait toutes sortes de métiers, allant de vendeur de café à messager.
Après être apparu dans plusieurs séries TV britanniques, il obtient son premier rôle pour le cinéma dans le film Pas de larmes pour Joy en 1967, mais les deux minutes dans lesquelles il apparaît sont finalement coupées au montage et n'apparaissent pas dans le film final.
En 1968, il est remarqué par la réalisatrice Lindsay Anderson, qui le fait jouer dans le film If… dans le rôle d'un élève rebelle d'une école privée du même style qu'il a fréquenté durant son adolescence. Ce film lui permet de devenir une star en Angleterre, mais le succès du film n'est malheureusement pas au rendez-vous à l'étranger. Emballé malgré tout par le succès de If…, Malcolm McDowell se lance dans l'écriture d'un film plus ou moins autobiographique : Le meilleur des mondes possible (O Lucky Man !) qui sort au cinéma en 1973.
Pendant ce temps, il joue dans le film qui marquera sa carrière, le controversé Orange Mécanique (1971), de Stanley Kubrick, où il interprète l'infâme Alex DeLarge. Ce rôle va le cataloguer dans la case des méchants, mais aussi lui permettre d'être nominé aux Golden Globe du meilleur acteur ! En 1979, il joue dans un film semi-pornographique, Caligula.
L'industrie du cinéma britannique peinant, il s'envole alors pour les Etats-Unis, où il tourne son premier film américain, C'était demain (1979). Il tourne par la suite plusieurs films dont la suite de If…, Britannia Hospital, en 1982.
Puis, en proie à l'alcool et à la drogue, il ne joue plus que dans des films B.
Le cinéma lui sourit à nouveau dans les années 90, avec le film Star trek : Générations (1994), dans lequel il interprète le Dr Soran. Il continue de tourner dans des films pour le cinéma mais ne joue principalement que des rôles secondaires.
En 2007 et 2009, il joue dans le remake de John Carpenter, le film d'horreur Halloween, et sa suite Halloween 2.
Parallèlement, il apparaît dans quelques séries TV, comme New York section criminelle, Monk ou encore Heroes en 2007, où il joue le personnage énigmatique de Linderman pendant 9 épisodes, et bien sûr, dans Mentalist, en 2010.
En plus d'être acteur, il a également prêté sa voix pour des dessins animés dont : Blanche Neige et le château hanté (1993) et Pinnochio le robot (2004).
Il a également joué dans plusieurs jeux vidéo, notamment dans Wing Commander III : Heart of the Tiger (1994) et Wing Commander IV : The Price of Freedom (1996), où il tenait le rôle de l'Admiral Geoffrey Tolwyn, ainsi qu'en 1996 dans Mummy : Tomb of the Pharaoh.
Il vit actuellement à Los Angeles, et même s'il vit aux USA depuis les années 70, il ne possède toujours pas la citoyenneté américaine.
Sa famille :
Il a été marié à Margot Bennett de 1975 à 1980.
Il a ensuite épouser l'actrice Mary Steenburgen en 1980. Leur histoire s'est terminée en 1990. Ensemble, ils ont eu deux enfants : Lilly Amanda (née le 22 janvier 1981) et Charles "Charlie" Malcolm (né le 10 juillet 1983).
Il vit depuis 1991 avec sa nouvelle femme, Kelley Kuhr, avec qui a eu trois enfants : Beckett Taylor (né le 18 janvier 2004), Finnian Anderson (né le 23 décembre 2006) et Seamus Hudson (né le 7 janvier 2009).
Petits + :
Il a pour neveu l'acteur Alexander Sidding.
Ses deux premiers enfants, Lilly et Charlie McDowell sont également acteurs.
McDowell est le nom de jeune fille de sa mère. Il a pris ce nom parce qu'il voulait intégrer la Screen Actors Guild (association professionnelle des acteurs de cinéma et de télévision) et qu'il y avait déjà un acteur britannique qui s'appelait Malcolm Taylor.
On le surnomme Mick.
Il mesure 1,74m.
Il a comme passion les courses automobiles.
Il a joué dans plusieurs films russes.
---------------------------------------------------------------------------------------------------------------------------------------------------
Rôle de Bret Stiles