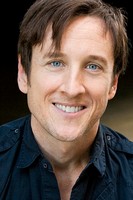 Nom : Plotnick
Prénom : Jack
Nom complet : Jack Stuart Plotnick
Date et lieu de naissance : 30 octobre 1968 à Colombus, Ohio (Etats-Unis)
Sa vie :
Il est le cadet d'une famille de quatre enfants. Il a deux frères et une soeur aînés, prénommés David, Larry et Elizabeth.
Il est sorti diplômé de Carnegie Mellon University en 1991, après avoir été scolarisé au lycée de Worthington, dans l'Ohio.
Du point de vue professionnel, il débute sa carrière en 1995. Il est notamment apparu dans plusieurs séries TV dont Ellen, Buffy the Vampire, etc, avant d'obtenir un rôle récurrent dans The Mentalist.
Il a également produit et réalisé quelques épisodes de séries TV dans lesquelles il apparaît comme Lovespring International.
Petits + :
Jack Plotnick mesure 1.80m.
Il possède un compte Twitter : @JackPlotnick ainsi qu'un compte Facebook.
Il a aussi un site officiel : www.jackplotnick.com
---------------------------------------------------------------------------------------------------------------------------------------------------
Rôle de Brett Partridge