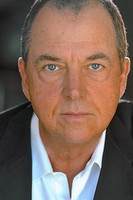 Nom : Itzin
Prénom : Gregory
Date et lieu de naissance : 20 avril 1948 à Washington D.C, Dist. Columbia (Etats-Unis)
Sa vie :
Gregory Itzin est le fils de Evelyn Loretta (née Smith) et de Martin Joseph Itzin. Sa famille déménage alors qu'il a une dizaine d'années dans le Winsconsin, à Burlington, où sont père a été élu maire.
Il était à l'origine destiné à devenir comédien au théâtre puisqu'il a suivi des cours au American Conservatory Theater de Los Angeles. Il a par conséquent participé à de nombreuses pièces jouées à travers le pays.
Il apparaît par la suite dans plusieurs séries télévisées dont Friends, Murder One, NCIS, mais le rôle qui le fait connaître est celui du Président des Etats-Unis, Charles Logan, dans la série 24, qu'il rejoint en 2005 au cours de la quatrième saison.
En 2008, il devient Virgil Minelli dans The Mentalist. Il apparait dans plusieurs épisodes avant de quitter la série pour tourner le season finale de 24.

Il est également apparu dans plusieurs des dérivés de Star Trek.
Même si on le voit régulièrement à la télévision, il ne délaisse pas pour autant le théâtre. En effet, Gregory Itzin fait partie de la compagnie théâtrale Matrix Theatre Company de Los Angeles, qui lui a permis de jouer dans plusieurs grandes productions récompensées. Entre autre : Waiting for Godot, The Homecoming et The Birthday Party, qui lui ont chacune valu un L.A. Drama Critics Circle Award.
Sa famille :
Il est marié depuis 1979 à Judie Itzin avec qui il a eu deux enfants : Wilke, né en 1983 et Julia, née en 1986.
Petits + :
Son fils, Wilke Itzin, a lui aussi joué dans The Mentalist. Il apparaît en effet dans l'épisode 4.21.
Gregory Itzin est un amateur de golf.
Il mesure 1,78m.
Il vit à Los Angeles.
Avant d'interpréter le Président Charles Logan dans la série 24, Gregory Itzin a prêté ses traits à un Président en campagne dans une publicité pour des produits fromagers.
Distinctions :
Au théâtre, Gregory Itzin est nommé aux Tony Awards de 1994 à Broadway en tant que meilleur acteur pour son rôle dans la pièce de théâtre The Kentucky Cycle. Il a également été nominé pour cette même pièce aux Drama Desk Awards.

Son rôle dans 24 lui permet une nomination aux 62ème Emmy dans la catégorie du "Meilleur acteur dans une série dramatique".

---------------------------------------------------------------------------------------------------------------------------------------------------
Rôle de Virgil Minelli